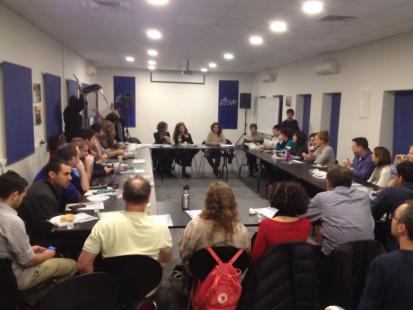 ---
Ir ​Amim launched its latest course on East Jerusalem for c
ivil society leaders and activists with a dynamic opening session on Wednesday, November 12. The course was developed to raise West Jerusalem-based leaders' and activists' awareness of the complex political situation, the historical and geographical reality of life in East Jerusalem and the socio-economic issues impacting its residents.
 Past courses have proven to be a critical forum for stimulating deeper understanding of Jerusalem and its role in resol
ution of the conflict, mobilizing young and committed West Jerusalemites who represent a key constituency for advancing a political resolution on the city and working to eliminate the entrenched disparities between East and West.
---
The course's first session featured a comprehensive review of the situation in East Jerusalem, given by Ir Amim's Executive Director Yudith Oppenheimer. Participants – including an impressive and diverse array of members of different Jerusalem-based movements and secular, religious and ultra-Orthodox residents of the city – showed great interest in learning more about East Jerusalem, and described the introduction they were given as "fascinating" and "stirring." The course is scheduled to continue until the end of December, and will include a tour of East Jerusalem and presentations on such key issues as construction, education, public institutions, and community activism.