---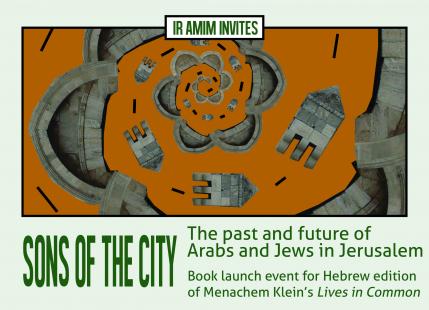 Thursday, March 3, 2016, 7:30 PM
Gerard Bechar Center, Leo Model Hall, Bezalel 11, Jerusalem
---
Menachem Klein's book,
Lives in Common
, has now come out in Hebrew, under the title
Kshurim – Hasipur Shel Bnei Ha'aretz
(Connected: The Story of the Sons of the Land). This book discusses the shared life of Arabs and Jews in three cities, primarily Jerusalem, as well as Jaffa and Hebron.
---
Prof. Menachem Klein is a foremost scholar and expert on Jerusalem.  He is a senior lecturer at Bar Ilan University's Department of Political Studies and the author of several books on Jerusalem and Israeli-Palestinian peace talks. Prof. Klein previously served as a Board member of Ir Amim.
---
Featured speakers at the book launch will include writer Eli Amir, Dr. Omar Yousef of the International Peace & Cooperation Center (IPCC), and journalist Bambi Sheleg, founder of the Eretz Acheret magazine. Moderator: Yudith Oppenheimer, Executive Director of Ir Amim. Final speaker and respondent: Prof. Menachem Klein.
---
The evening will serve as an opportunity to discuss the shared past of Arabs and Jews in Jerusalem and the lessons that can be learned for the present, including implications for recent proposals on unilateral separation in Jerusalem.
---
The event starts at 7:30 PM, and the program will begin at 8:00. The evening will be conducted in Hebrew, with the exception of Dr. Omar Yousef's talk, which will be given in English.