June 27, 2019
Today, the settler-initiated plan (TPS 610113) to construct 150 housing units on 10.3 dunams of land in the southern part of Beit Hanina was deposited for objections (
see map below
). The public now has 60 days to submit objections to the plan. Although the plan was officially submitted by a private Israeli landowner, city council member and settler leader Arieh King has long been driving promotion of the project. While 50% of the land is owned by the Israeli landowner, the remainder is owned by a Palestinian company. Since the process of officially splitting and demarcating the land in question between its owners did not occur, the settler-initiated master plan intends to encompass the entire property and thereafter split construction rights with the Palestinian company. Although the Palestinian landowners informed the Jerusalem District Committee that it objects to the advancement of the plan, the committee decided to promote it in spite of their opposition.
If approved, the plan will enable an ideologically driven settler outpost in the heart of Beit Hanina, a neighborhood located on the northern perimeter of East Jerusalem that has remained relatively untouched by Israeli settlement within its limits. Since the land in question is not far from Ramat Shlomo to the south-west and Pisgat Zeev to the north-east of it, its construction may mark the beginning of a far sweeping move to create contiguity between the two settlements, while driving a wedge between Bet Hanina and Shuafat.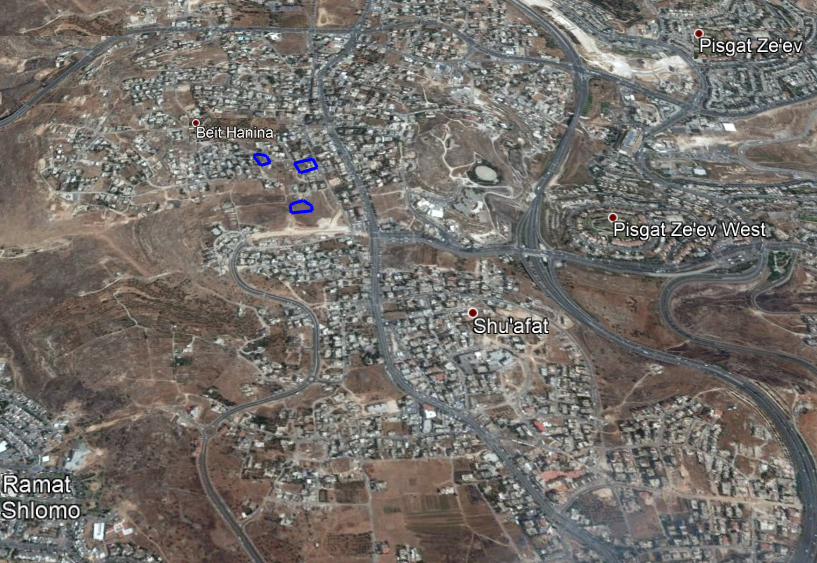 Land in question marked in blue.
Background
Prior to 1948, the land in question was purchased by Jews who donated it to the Hebrew University.  Due to legislation passed in the 1970s that allows Jews to reclaim assets lost in East Jerusalem during the war of 1948, the land was returned to the University, which in turn sold part of it to Jewish buyers and part to Majles al-Iskan, a Palestinian company.
On the basis of this sale, in 2012 King advanced the eviction of the Natcheh family from two housing units, establishing the basis of a settler community on their homes. Parallel to these events, during a hearing of the Knesset Education Committee MKs leveled criticism at the University for selling land to a Palestinian company, threatening to sanction the sale if the University failed to cancel it.